Choose your Supercar, Road Trip - Lake Waikere Lookout (51km's)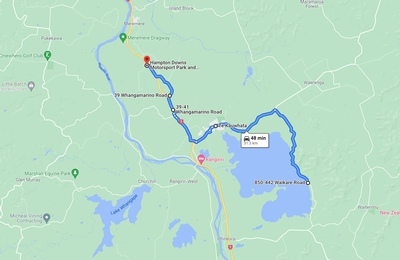 Recent Reviews
Thanks (finally!) for the awesome experience we purchased for our daughter's 21st, and thanks for the bonus laps. Shannon was absolutely buzzing and thoroughly enjoyed herself. We may have purchased a further package if the 20% discount lasted somewhat longer than just 3 days!
Great way to spend a day out. The Lambo was an epic drive and the hot lap with Eddie in the Evo X will leave you questioning how it's possible for a stock road car to have that much grip around corners. Definitely a must do!
Really great day on the track. Favourites were the Lamborghini and Lotus. Not so keen on the Ferrari. Instructors were awesome with a special mention for Stu and Carl. Highly recommended
Great experience. Very impressed with the friendliness and supportive approach from all of the staff.
I had an absolutely fantastic day! There was a bit of a delay while we waited for the fog to clear but that really wasn't a problem. Just the sheer exhilaration of hopping into your dream car and driving it is something that will stay with you for a lifetime. I drove the Ferrari F430 and the power and acceleration was something to behold. I could have driven around the track all day! Also had a blast in the Aston Martin and the hotlap in the Lotus Exige was out of this world. Photos and videos don't really do it justice and you actually have to drive the cars to get the most from this experience. Thank you to my darling for the best present any man could want.
My daughter and I just had the very best fun. It was a great way to spend the day in Auckland. We laughed and laughed and the adrenaline was pumping. We're going to do it again with our son now. Great birthday present.
Hi Drive Supercars team What a great afternoon. Thanks so much for your hospitality and the chance to drive some great cars under your expert guidance. Everyone on the team made us feel very welcome and nothing was any trouble. I would definitely recommend a trip to Hampton Downs with you guys to anyone who wants an awesome driving experience.
Hi team. Thanks so much for a great morning. This was a 21st present for my boy Hamish and this is something he will never forget. I also treated myself to a bucket list experience to drive a Ferrari which I thoroughly enjoyed. Thanks also to David for his patience and guidance. Shane Hutchinson.
My experience from start to finish was fantastic. Your organisation is both slick and professional throughout the whole experience. Everyone was happy, made you to feel special and all done with a smile. CONGRATULATIONS
We are a corporate company and have recently attended this event with some key clients. Its hard to describe in words but if you are thinking about this as a great way to give your clients that 'bucket list' experience I suggest stop thinking about it and BOOK NOW! What an incredible experience, we had such a great time we have secured future bookings with other key clients. Great experience, great facility, and great team. Well done Drive Supercars Team.
Key Points
Your road trip begins with an overview of the day along with an in-car familiarisation.
You'll be in car for approximately 51km's
Rest stops alongside the lake allow for some amazing photos
Country roads at their finest.
Share the Experience! Have someone (from your bubble) ride shotgun or share the driving with you, it's just the two of you in the car.
The Experience
Oh the choices…what a life when you get to choose between driving a Ferrari F430 Spyder or an Aston Martin V8 Vantage!
Would you go for the aerodynamic lines of the convertible Ferrari F430 Spyder or the Aston Martin's style & sophistication?
Yes – the choice is yours!
You'll take the wheel of your favourite supercar for a lakeside roadie. We'll start with an introduction and an overview of the day and where we'll be heading. You'll then recieve a personalised in car familiarisation to make sure you're comfortable and ready to go.
With a two way radio onboard you'll be able to make contact with your guide in the lead car at any point. We'll leave Hampton Downs Apartments in convoy and start cruising south along the motorway where you'll get an introduction to the amazing symphony that radiates from these masterpieces of automotive engineering.
As we leave the motorway and head toward Te Kauwhata you'll be able to relax into the country atmosphere and the type of environment these vehicles thrive within. A cruise through the township never fails to have every head turn as you instantly become a local celebrity!
From Te Kauwhata we wind our way alongside Lake Waikere where the water becomes a picturesque backdrop to the easy rolling Waikato back roads.
Stopping lakeside for a mini photoshoot gives everyone the opportunity to capture their next winning profile pic and some enviable bragging rights. You'll also have a chance to compare experiences with others on the roadie before swapping seats with your passenger if you've chosen to share the driving .
As we begin our homeward leg, it's a chance to savour the unique experience that is cruising on NZ roads with likeminded people in a convoy of supercars...just magic!

Location
Please meet us outside Hampton Downs Apartments (Hulme Block), Hampton Downs Road, Meremere


Additional Info
Drivers must have a current and valid full drivers licence to participate in the drive experience
Drivers under 25 must be approved by insurance company in advance
You can add a passenger (from your bubble) who can ride shot gun or share the driving for only $99.
The excess on Insurance claims is $4,000 and we require a credit card pre-authorisation for this value prior to departure. Insurance Plus can be purchased for $45 which reduces the preauthorisation amount required to $1,000.
The Ferrari and Aston Martin are both automatic or paddle shift. The availability for specific cars varies and can't be guaranteed.

Please note that this is a 'Driving Experience' and not a 'Race Day', we are on public roads and subject to the applicable road rules.
Duration
From arrival to departure - please allow two and a half hours. The road trip with rest stops is approximately 1.5 hours
Dress Code
Casual clothes are fine - please wear enclosed footwear
FAQ's
Q. What if I get a speeding ticket?
A. We are driving on public roads and subject to the road rules, if however you did receive a speeding ticket you would need to pay it.
Q. Can you get DVD's and/or Photos of the drive?
A. Yes definitely, we offer picture in picture USB video for $69 and customers are welcome to take their own photos at the rest stops with amazing scenery. Check out the additional options when you add this product to cart
Q. Do you need a full driver's license to participate?
A. Yes you do.
Q. Any Height and Weight Restrictions?
A. As a general guide there is a height restriction of 6ft 7in and a weight of 130kg, if you are outside of these parameters please call us to discuss as this is a guide and varies with each individual.
Q. What is required from me before I have my Drive?
A. No alcohol or medication that could impair driving should be consumed within eight hours of participating. We reserve the right to breath test and refuse anyone suspected of being intoxicated by other means.
Q. What is the total drive time?
A. Approximately 51 km's with with rest stops takes around 1.5 hours
Q. Do you run on weekends?
A. We run solely during the week as the roads are quieter and it allows for a better experience.
Q. Do you require a vaccine pass?
A. No. All appropriate safety precautions are taken and this is a non-close contact experience.