Ferrari F430 Spyder Drive & Evo-X Hot Lap, Hampton Downs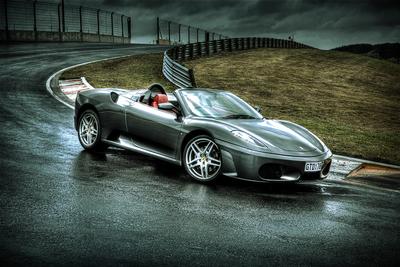 Recent Reviews
Toby

- 14/11/19

Had an awesome morning. I was really impressed by how well organised everything was, and everyone involved was friendly and helpful. I'll definitely be back, especially if there's a chance to drive a Porsche at some stage in the future!
henry

- 01/11/19

Six laps later and this 75 year old is still buzzing Many thanks.
Michael

- 01/11/19

Great day. Very well organized and run. Would certainly recommend to family and friends.
Linda

- 24/09/19

Thanks so much guys, my husband had an amazing time and loved the whole experience. Was great to have the recording and we think it would be great if the speed was on the video too. We will highly recommend this experience to friends and family. Thanks once again. The MacDonald family
Linden

- 20/09/19

great day awsome time very good car to drive the ferrari. only improvement helmets should be worn in the race cars for saftey reasons i was up just over 200kms.
Greg

- 20/09/19

My second time. And again, a fantastic afternoon then seemed to go so quick. Thanks to the team, the drivers and all involved Will, and have, recommended this to a number of people. Cheers Greg
Carin

- 26/04/19

I loved it!! Would love to do it again but we went away the next day so couldn't take advantage of 20% off. But I had a great time! Thanks
Belinda

- 19/04/19

Absolutely brilliant experience. Driving instructor, very very good - sorry I cant remember his name. Would and have recommended it already. Loved the Hot car drive - I may have missed some due to closing eyes!
Simonne

- 19/04/19

Had an amazing day thanks team!! Will definitely be back for round two ??
Read More Reviews
Read Less Reviews
Key Points
Drive 8kms in a Ferrari F430 Spyder
One Screamin' hot lap in a Mitsubishi EvoX
In-car driving coach
Full safety briefing and driving instruction
The Experience
This incredible experience will sit you in the driver's seat of our sleek Ferrari F430 Spyder, allowing you to feel the intense power of this stunning supercar as you drive 8kms around Hampton Downs Raceway in Auckland.
Once you arrive down at the track, we will give you a full safety briefing and driving instructions which will prepare you for this experience and let you know what to expect from this phenomenal supercar.
Then it is time to get you strapped in for the most incredible drive of your life! You will be accompanied on this drive experience with an expert driving instructor who will provide you with tips on how to handle the beast and enable you to really get the most out of your drive. Nothing will prepare you for the roar of the engine as you fire up the Ferrari and you'll see very quickly why many car experts consider it to be one of the most incredible cars in the world!!
You're sure to have a wild time cruising 8kms in the driver's seat of this incredibly powerful supercar, your legs will be shaking when it comes to the end of the drive. Your experience doesn't end here! Now it's time to jump in the EvoX for a flying passenger hot lap. A great way to finish off the experience, every seat is as good as the next in this very capable car so whether you're in the front or the back seat you'll be smiling when you get out.
Location
Please meet us at Hampton Downs Motorsport Park, Hampton Downs Road, Meremere
Additional Info
Please note that drivers must have a current and valid full drivers licence to participate in the drive experience

Please note that this is a 'Driving Experience' and not a 'Race Day', while you will get to experience the performance capabilities of the Supercar some restrictions to cornering speeds will apply on the day
This experience runs on Thursdays, once a month & we recommend booking 4-6 weeks in advance.

As a general guide there is a height restriction of 6ft 5in and a weight restriction of 120kg, if you are outside of these parameters please call us to discuss available options
Spectators: All family and friends are welcome. If your guests bring their Drivers Licence with them they may also be able to drive (subject to availability - Please see registration on the day for Pay and Drive options).

The Transmission is F1 (Paddle Shift) however it does have an Automatic mode if preferred

You must be drug and alcohol free, otherwise we reserve the right to refuse participation
Duration
From arrival to departure - please allow two and a half hours for your drive experience
Dress Code
Casual clothes are fine - please wear enclosed footwear
FAQ's
Q. Can friends and family come down and watch the drive?
A. Spectators are more than welcome to come and share in this great experience and take photos.
Q. Can you get DVD's and/or Photos of the drive?
A. Yes definitely, we offer USB video sticks and framed photos. Check out the additional options to add these!
Q. Are the cars Automatic or Manual?
A. The Transmission is F1 (Paddle Shift) however it does have an Automatic mode if preferred. This is the case for both the Ferrari and Lamborghini
Q. Do you need a full driver's licence to participate?
A. Yes you do, if you do not have full drivers licence one of our professional drivers can take you for a hair raising ride experience!
Q. Are there food and drink facilities at Hampton Downs?
A. There are basic snacks & drinks available for purchase, however we recommend bringing something with you if you want something substantial to eat on the day.
Q. What is required from me before I have my Drive?
A. No alcohol is to be consumed within eight hours of participating. Occupants must wear enclosed footwear. Please bring your license and your voucher for the experience
Q. Are there height and weight restrictions?
A. As a general guide there is a height restriction of 6ft 5in and a weight of 120kg. Call us if you are worried - but we have never had to turn anyone away!
Q. Do you run on weekends?
A. Weekends are typically not available due to race events being held at the track. We run on a Thursday in most cases and periodically on alternate weekdays.