Ferrari F430 Spyder Drive & Evo-X Hot Lap, Hampton Downs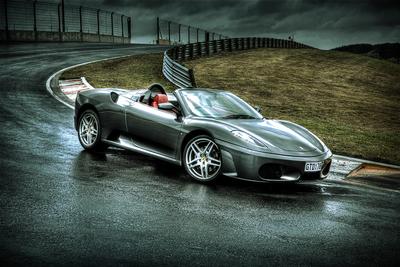 Recent Reviews
Great experience. Very impressed with the friendliness and supportive approach from all of the staff.
I had an absolutely fantastic day! There was a bit of a delay while we waited for the fog to clear but that really wasn't a problem. Just the sheer exhilaration of hopping into your dream car and driving it is something that will stay with you for a lifetime. I drove the Ferrari F430 and the power and acceleration was something to behold. I could have driven around the track all day! Also had a blast in the Aston Martin and the hotlap in the Lotus Exige was out of this world. Photos and videos don't really do it justice and you actually have to drive the cars to get the most from this experience. Thank you to my darling for the best present any man could want.
Hi team. Thanks so much for a great morning. This was a 21st present for my boy Hamish and this is something he will never forget. I also treated myself to a bucket list experience to drive a Ferrari which I thoroughly enjoyed. Thanks also to David for his patience and guidance. Shane Hutchinson.
Great event, really enjoyed this experience. Just wish it had been longer. Regards, Neville
Hi There I was so impressed with my day at Hampton Downs - I absolutely loved it. Three things that I was really impressed with were: 1. How well organised and flowing the day was. 2. How friendly all the staff were 3. The quality of the instructors - especially Colin in the Lotus
Thoroughly enjoyed myself! Although my originally booked Ferrari had some issues that took it out of rotation, I was quickly offered the choice to move over to the Lamborghini. This was an absolutely brilliant "upgrade " in my eyes! What a mega-beast of a machine. All the staff were extremely friendly and very well informed about what was happening and what to do. The driving coach was very clear and concise with his instructions and also very forgiving of my sluggish performance. As for the Hot Lap, that man (David?) was absolutely insane!! The most exhilarating drive of my life. An absolute 10/10 experience that ANY petrol head would enjoy.
I thoroughly enjoyed my drive and hot-lap, and the Ferrari was impressive. All the staff and instructors are great, very friendly and they give the "I'm here to help" vibe out strongly. Hampton Downs is geat and logistically it all went very smoothly. The only thing I would mention is, while I realise it is a drive experience not a race experience, that I would have liked to brake a little later and corner a little faster to really enjoy the supercar potential. Also, for the hot lap, I think it would add a lot to it to make it a full lap including the front straight and turn 1 rather than straight back into the pits.
An absolutely fantastic day. Right from the start when I was welcomed by the lady behind the desk I knew that I was going to have a fun day and a fun day I surely did. All staff were fantastic and all were made to feel part of the day. Great to meet the head person and have a chat. Staff well done, cars were great and well kept, instructors fantastic, coffee great and the jet airplane lollies my favorite. 10/10 guys
A great experience on the track. All the staff were welcoming and helpful!
Read More Reviews
Read Less Reviews
Key Points
Drive 8kms in a Ferrari F430 Spyder
One Screamin' hot lap in a Mitsubishi EvoX
In-car driving coach
Full safety briefing and driving instruction
The Experience
This incredible experience will sit you in the driver's seat of our sleek Ferrari F430 Spyder, allowing you to feel the intense power of this stunning supercar as you drive 8kms around Hampton Downs Raceway in Auckland.
Once you arrive down at the track, we will give you a full safety briefing and driving instructions which will prepare you for this experience and let you know what to expect from this phenomenal supercar.
Then it is time to get you strapped in for the most incredible drive of your life! You will be accompanied on this drive experience with an expert driving instructor who will provide you with tips on how to handle the beast and enable you to really get the most out of your drive. Nothing will prepare you for the roar of the engine as you fire up the Ferrari and you'll see very quickly why many car experts consider it to be one of the most incredible cars in the world!!
You're sure to have a wild time cruising 8kms in the driver's seat of this incredibly powerful supercar, your legs will be shaking when it comes to the end of the drive. Your experience doesn't end here! Now it's time to jump in the EvoX for a flying passenger hot lap. A great way to finish off the experience, every seat is as good as the next in this very capable car so whether you're in the front or the back seat you'll be smiling when you get out.
Location
Please meet us at Hampton Downs Motorsport Park, Hampton Downs Road, Meremere
Additional Info
Please note that drivers must have a current and valid full drivers licence to participate in the drive experience

Please note that this is a 'Driving Experience' and not a 'Race Day', while you will get to experience the performance capabilities of the Supercar some restrictions to cornering speeds will apply on the day
This experience runs on Thursdays, once a month & we recommend booking 4-6 weeks in advance.

As a general guide there is a height restriction of 6ft 5in and a weight restriction of 120kg, if you are outside of these parameters please call us to discuss available options
Spectators: All family and friends are welcome. If your guests bring their Drivers Licence with them they may also be able to drive (subject to availability - Please see registration on the day for Pay and Drive options).

The Transmission is F1 (Paddle Shift) however it does have an Automatic mode if preferred

You must be drug and alcohol free, otherwise we reserve the right to refuse participation
Duration
From arrival to departure - please allow two and a half hours for your drive experience
Dress Code
Casual clothes are fine - please wear enclosed footwear
FAQ's
Q. Can friends and family come down and watch the drive?
A. Spectators are more than welcome to come and share in this great experience and take photos.
Q. Can you get DVD's and/or Photos of the drive?
A. Yes definitely, we offer USB video sticks and framed photos. Check out the additional options to add these!
Q. Are the cars Automatic or Manual?
A. The Transmission is F1 (Paddle Shift) however it does have an Automatic mode if preferred. This is the case for both the Ferrari and Lamborghini
Q. Do you need a full driver's licence to participate?
A. Yes you do, if you do not have full drivers licence one of our professional drivers can take you for a hair raising ride experience!
Q. Are there food and drink facilities at Hampton Downs?
A. There are basic snacks & drinks available for purchase, however we recommend bringing something with you if you want something substantial to eat on the day.
Q. What is required from me before I have my Drive?
A. No alcohol is to be consumed within eight hours of participating. Occupants must wear enclosed footwear. Please bring your license and your voucher for the experience
Q. Are there height and weight restrictions?
A. As a general guide there is a height restriction of 6ft 5in and a weight of 120kg. Call us if you are worried - but we have never had to turn anyone away!
Q. Do you run on weekends?
A. Weekends are typically not available due to race events being held at the track. We run on a Thursday in most cases and periodically on alternate weekdays.