Lamborghini Murcielago Drive & Evo-X Hot Lap, Hampton Downs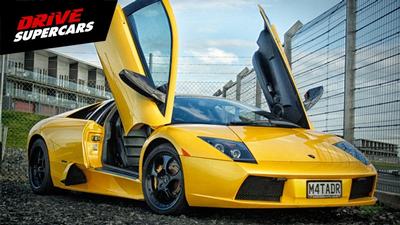 Recent Reviews
tony

- 20/09/19

Thoroughly enjoyed the experience thanks. You could have apparel there available for purchase or order Everyone was nice and customer focussed A well organised event
Doug

- 20/09/19

If you could add a feature to the video or at least have some kind of app that lets the driver know the top speed they reached during the laps. I understand the logic for having the speedometer disabled to keep driver attention on the track, but when they are finished driving, just as a record. That's the most common question i've had from people asking me how my experience was and I haven't been able to answer them. Other than that - awesome experience!
Liam

- 20/09/19

Excellent day very well ran Professional outfit, highly recommended
Rene

- 19/04/19

We really enjoyed our day and took advantage of the GoKarts track being right next door. It was certainly a day well worth while with the team at Hampton Downs providing excellent service both on the track and off the track! The instructor was an excellent co-pilot and guided you all the way through the course ….which made the experience even better! Thanks Team....worth a repeat!
Bernard

- 19/04/19

Great day driving, knowledgeable drive instructors, bright bubbly support staff, all in all, a great experience, we'll be back!
Liam

- 11/04/19

Awesome day for my son. Only thing he was a bit disappointed about was the hot lap as a back seat passenger. I understand that you mention it in the marketing but it isn't the same experience between front and back seat the visuals are missing in the back. I think either you pay more and book front seat, pay more and run more laps as singles, or continue to have people angling to get in front seat and those who are not pushy having a lesser experience - and they do, in spite of the on site teams programmed response which was ' it's the same experience" CHeers
Glen

- 05/04/19

Great fun. Enjoyed it alot.
Pieter

- 25/03/19

it was the best experience i had in years and the driver's are excellent and very friendly
Maxine

- 23/03/19

Had a great day really enjoyed it over to quickly. I did 5 laps a few more would have been better.
Nathan

- 26/02/19

Hi, Awesome service, and the staff were great. 5 Stars, and would recommend to all of my friends and family.
Read More Reviews
Read Less Reviews
Key Points
Drive a Lamborghini Murcielago
Located at Hampton Downs Raceway
In-car instructor
Pre-drive briefing
Photo and USB video options
The Experience
This is the pinnacle of driving experiences! Take the wheel of a Lamborghini Murcielago around Hampton Downs Motorsport Park and you will instantly realise why this is one of the greatest cars in the world. The power, the sound, the experience will never be forgotten.
As Lamborghini's flagship, the Murcielago has an unsurpassed style & unbelievable power - a combination that only Lamborghini can perfectly combine. Simply astonishing.
Take it all in as you drive for 8km around Hamptons Downs Raceway while one of our expert drivers guide you on the finer points of handling this supercar. The noise is unparalleled and the experience will never be forgotten.
Then just when you thought it couldn't get any better, you'll get the chance to jump into the passenger seat of the awesome Mitsubishi EvoX for a fast lap around the track. A great way to finish off the experience, every seat is as good as the next in this very capable car so whether you're in the front or the back seat you'll be smiling when you get out. The ultimate end to a once in a life-time driving experience.
Location
Please meet us at Hampton Downs Motorsport Park, Hampton Downs Road, Meremere
Additional Info
Please note that drivers must have a current and valid full drivers licence to participate in the drive experience

Please note that this is a 'Driving Experience' and not a 'Race Day', while you will get to experience the performance capabilities of the Supercar some restrictions to cornering speeds will apply on the day
This experience runs on Thursdays, once a month & we recommend booking 4-6 weeks in advance.

As a general guide there is a height restriction of 6ft 5in and a weight restriction of 120kg, if you are outside of these parameters please call us to discuss available options

Spectators: All family and friends are welcome. If your guests bring their Drivers Licence with them they may also be able to drive (subject to availability - Please see registration on the day for Pay and Drive options).

The Transmission is a manual stick shift.

You must be drug and alcohol free, otherwise we reserve the right to refuse participation
Duration
From arrival to departure - please allow two and a half hours for your drive experience
Dress Code
Casual clothes are fine - please wear enclosed footwear
FAQ's
Q. Can friends and family come down and watch the drive?
A. Spectators are more than welcome to come and share in this great experience and take photos.
Q. Can you get DVD's and/or Photos of the drive?
A. Yes definitely, we offer USB video sticks and framed photos. Check out the additional options to add these!
Q. Are the cars Automatic or Manual?
A. The Transmission is a manual stick shift.
Q. Do you need a full driver's licence to participate?
A. Yes you do, if you do not have full drivers licence one of our professional drivers can take you for a hair raising ride experience!
Q. Are there food and drink facilities at Hampton Downs?
A. There are basic snacks & drinks available for purchase, however we recommend bringing something with you if you want something substantial to eat on the day.
Q. What is required from me before I have my Drive?
A. No alcohol is to be consumed within eight hours of participating. Occupants must wear enclosed footwear. Please bring your license and your voucher for the experience
Q. Are there height and weight restrictions?
A. As a general guide there is a height restriction of 6ft 5in and a weight of 120kg. Call us if you are worried - but we have never had to turn anyone away!
Q. Do you run on weekends?
A. Weekends are typically not available due to race events being held at the track. We run on a Thursday in most cases and periodically on alternate weekdays.