Lamborghini Murcielago Drive & Evo-X Hot Lap, Hampton Downs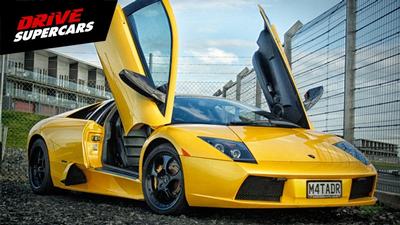 Recent Reviews
Lindsay

- 15/01/21

I can't thank you enough for an amazing day. From the very beginning your staff were amazing. Everyone had a smile and knew exactly what they were doing. My instructor in the Lambo was amazing. He encouraged me all the way to push it a bit more. By lap 3 it was lookout Lewis Hamilton. The Evo driver is insane haha. I couldn't find enough things to hold on to. Amazing hot lap. By the end of the session the young boys knew which colour jelly aeroplanes i like. At 71years young i ticked another thing off my bucket list. Don't change anything. You don't fix something thats not broken. ThNks so much. Lindsay Martin
Kyle

- 15/01/21

Great experience id recommend this to anyone who enjoys cars
Colin

- 14/12/20

Fantastic experience for my other half. Staff were super friendly and attentive. Always answered any queries in a timely manner leading up to the event. Everything was well organized and structured! Would highly recommend. :)
Peter

- 03/12/20

I initially did not know quite what to expect & having been through a cancellation it was a bit deflat6. However, when I actually arrived and experienced the drive experience I was blown away. The staff and drivers were very professional but very welcoming and made me feel at ease. I thoroughly enjoyed my day and wish I could do it regularly. My wife says it's all I am talking about for several days. Well done guys - you run a well oiled business and you make people feel 6
Eddie

- 03/12/20

Great day out with Eddie and his team for our staff Christmas party, none of us had driven a supercar before. What an amazing and unforgettable experience with a awesome bunch of professional drivers. Highly recommended. Jarrod Piped Plumbing
Glen

- 14/10/20

Awesome experience very professional, I would have loved a few more laps in both cars and the evo but a great experience and great driver instructor's
Paula

- 14/10/20

Love it all. The instructor was very patient I had a great time thank you ps your ladies that do the welcoming and pointing you to the cars were super lovely to. Sorry I can not remember names!
K

- 27/09/20

Hi Eddy and team. Thank you for a most enjoyable day out not only driving an iconic and legendary Supercar but you and your staff were Amazing. Friendly and accomodating making for a Fantastic day out even thought it was a little wet. My elderly Father also got the experience of his life with a hot lap driven by Eddy...excellent, a day we will never forget. Thanks again and Cheers Team Kevin.
Maureen

- 25/09/20

Also drove the Aston Martin, had a great afternoon, 3 laps to gain some confidence then the fun starts, kept buying more laps, finished up with 12. Highly recommend.
Read More Reviews
Read Less Reviews
Key Points
Drive a Lamborghini Murcielago
Located at Hampton Downs Raceway
In-car instructor
Pre-drive briefing
Photo and USB video options
The Experience
This is the pinnacle of driving experiences! Take the wheel of a Lamborghini Murcielago around Hampton Downs Motorsport Park and you will instantly realise why this is one of the greatest cars in the world. The power, the sound, the experience will never be forgotten.
As Lamborghini's flagship, the Murcielago has an unsurpassed style & unbelievable power - a combination that only Lamborghini can perfectly combine. Simply astonishing.
Take it all in as you drive for 8km around Hamptons Downs Raceway while one of our expert drivers guide you on the finer points of handling this supercar. The noise is unparalleled and the experience will never be forgotten.
Then just when you thought it couldn't get any better, you'll get the chance to jump into the passenger seat of the awesome Mitsubishi EvoX for a fast lap around the track. A great way to finish off the experience, every seat is as good as the next in this very capable car so whether you're in the front or the back seat you'll be smiling when you get out. The ultimate end to a once in a life-time driving experience.
Location
Please meet us at Hampton Downs Motorsport Park, Hampton Downs Road, Meremere
Additional Info
Please note that drivers must have a current and valid full drivers licence to participate in the drive experience

Please note that this is a 'Driving Experience' and not a 'Race Day', while you will get to experience the performance capabilities of the Supercar some restrictions to cornering speeds will apply on the day
This experience runs on Thursdays, once a month & we recommend booking 4-6 weeks in advance.

As a general guide there is a height restriction of 6ft 5in and a weight restriction of 120kg, if you are outside of these parameters please call us to discuss available options

Spectators: All family and friends are welcome. If your guests bring their Drivers Licence with them they may also be able to drive (subject to availability - Please see registration on the day for Pay and Drive options).

The Transmission is a manual stick shift.

You must be drug and alcohol free, otherwise we reserve the right to refuse participation
Duration
From arrival to departure - please allow two and a half hours for your drive experience
Dress Code
Casual clothes are fine - please wear enclosed footwear
FAQ's
Q. Can friends and family come down and watch the drive?
A. Spectators are more than welcome to come and share in this great experience and take photos.
Q. Can you get DVD's and/or Photos of the drive?
A. Yes definitely, we offer USB video sticks and framed photos. Check out the additional options to add these!
Q. Are the cars Automatic or Manual?
A. The Transmission is a manual stick shift.
Q. Do you need a full driver's licence to participate?
A. Yes you do, if you do not have full drivers licence one of our professional drivers can take you for a hair raising ride experience!
Q. Are there food and drink facilities at Hampton Downs?
A. There are basic snacks & drinks available for purchase, however we recommend bringing something with you if you want something substantial to eat on the day.
Q. What is required from me before I have my Drive?
A. No alcohol is to be consumed within eight hours of participating. Occupants must wear enclosed footwear. Please bring your license and your voucher for the experience
Q. Are there height and weight restrictions?
A. As a general guide there is a height restriction of 6ft 5in and a weight of 120kg. Call us if you are worried - but we have never had to turn anyone away!
Q. Do you run on weekends?
A. Weekends are typically not available due to race events being held at the track. We run on a Thursday in most cases and periodically on alternate weekdays.