Drive all Supercars + EVO-X Hot Lap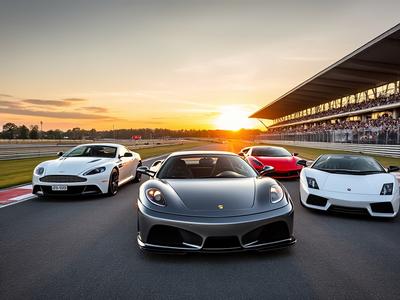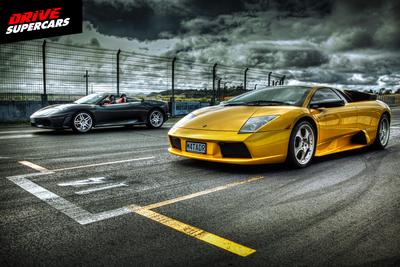 Recent Reviews
Tonya

- 09/09/20

Really enjoyable morning out to drive some fantastic cars.
Ben

- 06/09/20

Really enjoyed it. Great instruction from the guys. Cheers
Rob

- 06/09/20

I had a dreamy day! Everyone was very helpful and Jamie's comments and enthusiasm made my day ?? Oh and my hot lap was beyond ?? I got helpful advice from all my copilots and so feel armed to take things further ?? Thank you all for a very special day. The only hiccup was the video, it didn't work twice and created plenty walking up and down to the reception after each drive, having said that, it meant I was there most of the day which I enjoyed! But now home, the video only works for 1 lap. Not sure I really want to hear me nervously blethering but I would have liked to hear Jamie's encouragement ?? Thought you should know. All up it was much better experience than I'd hoped for, good job Team. Sue
Rob

- 14/02/20

Hi Guys and a big thank you for a wonderful adventure on Feb 13th.I drove all the cars with extra laps and thoroughly enjoyed every minute.I thought that speed would be curtailed somewhat but found that it was not which greatly added to the excitement.The instructors all were extremely courteous and professional and to each one I would like to offer a huge "awesome" and THANK YOU. The entire day was extremely well organised and all the staff could not have been more helpful and pleasant.Really enjoyed talking to you Eddie;you obviously really enjoy all aspects of the business.Not often do events exceed expectations but,for me, this certainly did.The only little disappointment was the overly harsh and frightening gear changes of the Aston Martin.I thought that I had destroyed the gearbox on multiple occasions.Scary!! Thank you all for a truly memorable day.Rob Taylor.
Amanda

- 29/01/20

We both had a great day and loved the experience - all very organised. Special thanks to Eddie for sorting my original booking and moving times around to fit us in January. Good to meet him on the day. Amanda + Gary
Peter

- 23/09/19

Thank you for a fabulous day. Tori and I really enjoyed ourselves and felt that the people looking after us (in and out of the cars) were friendly, attentive and hospitable. It was fun day out. We will highly recommend Drive Supercars to others
Bil

- 05/04/19

Hi, great day out. Have a problem downloading the video files you gave me as they are in a file that my Apple does not recognise (they are set up as VBOX files for Windows). Please let me know how I can view these on my Mac Bil
Tony

- 07/12/18

Hi guys and girls Thank you for a great day yesterday it was the highlight of the year. the instructors were awesome and everybody very friendly. If i was to have one criticism, it was the long waits between cars, the weather didn't help I do realise that, also I had a photo band on and if it wasn't until I asked what it was for at the end of the day, I wouldn't have had a photo done. these are minor things that did not spoil a great day, please see it as constructive criticism. Thanks again Tony Mayfield
Chloe

- 06/10/18

A very well run day, would Highly recommend people experience Driving all the supercars like I did
Andy

- 17/11/17

I've done a lot of track days in some pretty well sorted road cars ao was pretty excited at the prospect of driving these pin-up Euro Supercars! I was not disappointed! The braking technique was a new experience as I'm used to braking late and hard into turn but the experience was more akin to fast road driving with lovely fast flowing cornering and smooth powerful acceleration being the goal on the day. All the instructors knew the cars so well and really made me feel welcome and relaxed in the cars. All support crew were very welcoming and helpful! I was fortunate to drive five cars on the day and loved them all, the F430 and Gallardo in particular. The sound and handling of these two were marvellous like a blend of the Elise and Vantage with massive personality. The experience has prompted my wife and I to search for another high performance sports car to renew our shared passion for track days and driving enjoyment! Thanks to all the team!
Read More Reviews
Read Less Reviews
Key Points
Safety Briefing & Sighting Lap
You Drive 8km in a Lamborghini, Aston Martin, Ferrari & Lotus
A passenger Evo-X Hot Lap
The Experience
Driving heaven! Take the wheel of 4 of the world's greatest Supercars around Hampton Downs Raceway. Lamborghini, Ferrari, Aston Martin, Lotus - they're all here & you're in control!
Lamborghini Murcielago, Ferrari F430 Spyder, Aston Martin V8 Vantage & Lotus Exige! This breathtaking lineup will be waiting for you on your arrival.
Starting off with a briefing around the cars & the track, you'll then be taken out & introduced to your professional instructors for the day. They'll take you through the in's and out's of handling these amazing Supercars as you strap into the drivers seat and turn the ignition.
Take it all in as you drive for 8km in each car around Hamptons Downs Raceway while one of our expert instructors guide you on the finer points of handling these supercars. The noise is unparalleled and the experience will never be forgotten.
Then just when you thought it couldn't get any better, you'll get the chance to jump into the passenger seat of the awesome Mitsubishi EvoX for a fast lap around the track. A great way to finish off the experience, every seat is as good as the next in this very capable car so whether you're in the front or the back seat you'll be smiling when you get out.
Location
Please meet us at Hampton Downs Motorsport Park, Hampton Downs Road, Meremere
Additional Info
Please note that drivers must have a current and valid full drivers licence to participate in the drive experience

Please note that this is a 'Driving Experience' and not a 'Race Day', while you will get to experience the performance capabilities of the Supercar some restrictions to cornering speeds will apply on the day
This experience runs on Thursdays, once a month & we recommend booking 4-6 weeks in advance.

As a general guide there is a height restriction of 6ft 5in and a weight restriction of 120kg, if you are outside of these parameters please call us to discuss available options

Spectators: All family and friends are welcome. We also offer Hot Laps in all of the Supercars on the day (Pay & Drive). If your guests bring their Driving Licence with them they can also drive on the day too (subject to availability)

The Transmission in the lotus and Murcielago are stick shift manual, the other cars are is F1 (Paddle Shift) however they have an Automatic mode if preferred

You must be drug and alcohol free, otherwise we reserve the right to refuse participation
Duration
From arrival to departure - please allow two and a half hours for your drive experience
Dress Code
Casual clothes are fine - please wear enclosed footwear
FAQ's
Q: Do I need to have a driver's licence?
A: Yes, all drivers must have a current and valid full drivers licence.
Q: Do I drive the 4 Supercars or does someone drive me?
A: Yes, YOU are the driver!
Q: Can family and friends come and watch?
A: Yes, definitely! We highly recommend you bring spectators...and have them bring their cameras!
Q: What track do we drive on?
A: You will be driving on the awesome Hampton Downs Motorpark Racetrack.
Q: How many kilometres do I drive?
A: You will drive approximately 8 kilometres in EACH car. A total of 32 kilometres plus the additional Hot Lap driven by a professional.
Q. Do you run on weekends?
A. Weekends are typically not available due to race events being held at the track. We run on a Thursday in most cases and periodically on alternate weekdays.