Drive all Supercars + EVO-X Hot Lap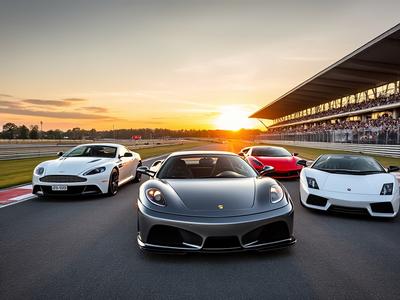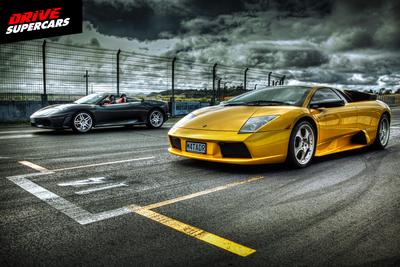 Recent Reviews
Thanks (finally!) for the awesome experience we purchased for our daughter's 21st, and thanks for the bonus laps. Shannon was absolutely buzzing and thoroughly enjoyed herself. We may have purchased a further package if the 20% discount lasted somewhat longer than just 3 days!
Really great day on the track. Favourites were the Lamborghini and Lotus. Not so keen on the Ferrari. Instructors were awesome with a special mention for Stu and Carl. Highly recommended
Hi Drive Supercars team What a great afternoon. Thanks so much for your hospitality and the chance to drive some great cars under your expert guidance. Everyone on the team made us feel very welcome and nothing was any trouble. I would definitely recommend a trip to Hampton Downs with you guys to anyone who wants an awesome driving experience.
An absolutely incredible day and the experience of a lifetime. The whole day was professionally run and well organized, flowed like clockwork and was fun, fun, fun. All the staff were extremally friendly with the instructors being calming, very experienced and great in guiding all drivers to get the most out of their drive, learn from and maximize the experience, while staying safe in the process. Whilst all the cars were amazing, I enjoyed the Ferrari the most. Certainly recommend the extended laps option and would like to see this extended further, along with the Hot Lap extended by one lap to include a drive down the front straight. An outstanding day in every respect!!
A fantastic day on the track. Very well organized. The cars were exceptional.
Hi All Thank you very much for an awesome experience, was incredible to drive all the supercars Thank you too all the friendly staff Highly reccomended Cheers
Great people, awesome cars, amazing experience - do it!
Absolutely fantastic morning at the track, very professionally organisation and had a blast. Highly recommended..
Had a fantastic day. Really enjoyed the cars. Highlight of the experience was Dave, hands down. Had such a great time talking to him we totally missed a lap but good excuse to finish the day with Dave in the Lotus. Thank you so much for the experience.
Guys had a really awesome day - as a 60th birthday present driving all 5 super cars was outstanding, had a blast, truly a once in a life time event. Thanks to all the staff who did a great job making it a memorable day.8rc
Read More Reviews
Read Less Reviews
Key Points
Safety Briefing & Sighting Lap
You Drive 8km in a Lamborghini, Aston Martin, Ferrari & Lotus
A passenger Evo-X Hot Lap
The Experience
Driving heaven! Take the wheel of 4 of the world's greatest Supercars around Hampton Downs Raceway. Lamborghini, Ferrari, Aston Martin, Lotus - they're all here & you're in control!
Lamborghini Murcielago, Ferrari F430 Spyder, Aston Martin V8 Vantage & Lotus Exige! This breathtaking lineup will be waiting for you on your arrival.
Starting off with a briefing around the cars & the track, you'll then be taken out & introduced to your professional instructors for the day. They'll take you through the in's and out's of handling these amazing Supercars as you strap into the drivers seat and turn the ignition.
Take it all in as you drive for 8km in each car around Hamptons Downs Raceway while one of our expert instructors guide you on the finer points of handling these supercars. The noise is unparalleled and the experience will never be forgotten.
Then just when you thought it couldn't get any better, you'll get the chance to jump into the passenger seat of the awesome Mitsubishi EvoX for a fast lap around the track. A great way to finish off the experience, every seat is as good as the next in this very capable car so whether you're in the front or the back seat you'll be smiling when you get out.
Location
Please meet us at Hampton Downs Motorsport Park, Hampton Downs Road, Meremere
Additional Info
Please note that drivers must have a current and valid full drivers licence to participate in the drive experience

Please note that this is a 'Driving Experience' and not a 'Race Day', while you will get to experience the performance capabilities of the Supercar some restrictions to cornering speeds will apply on the day
This experience runs on Thursdays, once a month & we recommend booking 4-6 weeks in advance.

As a general guide there is a height restriction of 6ft 5in and a weight restriction of 120kg, if you are outside of these parameters please call us to discuss available options

Spectators: All family and friends are welcome. We also offer Hot Laps in all of the Supercars on the day (Pay & Drive). If your guests bring their Driving Licence with them they can also drive on the day too (subject to availability)

The Transmission in the lotus and Murcielago are stick shift manual, the other cars are is F1 (Paddle Shift) however they have an Automatic mode if preferred

You must be drug and alcohol free, otherwise we reserve the right to refuse participation
Duration
From arrival to departure - please allow two and a half hours for your drive experience
Dress Code
Casual clothes are fine - please wear enclosed footwear
FAQ's
Q: Do I need to have a driver's licence?
A: Yes, all drivers must have a current and valid full drivers licence.
Q: Do I drive the 4 Supercars or does someone drive me?
A: Yes, YOU are the driver!
Q: Can family and friends come and watch?
A: Yes, definitely! We highly recommend you bring spectators...and have them bring their cameras!
Q: What track do we drive on?
A: You will be driving on the awesome Hampton Downs Motorpark Racetrack.
Q: How many kilometres do I drive?
A: You will drive approximately 8 kilometres in EACH car. A total of 32 kilometres plus the additional Hot Lap driven by a professional.
Q. Do you run on weekends?
A. Weekends are typically not available due to race events being held at the track. We run on a Thursday in most cases and periodically on alternate weekdays.