Drive Supercars Reviews
Some Example Photos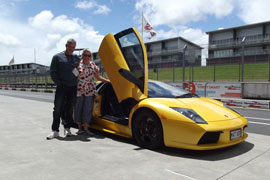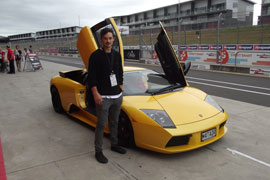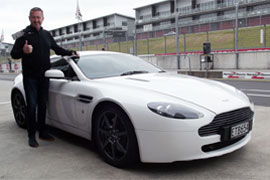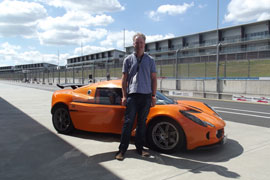 Last 20 Reviews
Carin

- 26/04/19

I loved it!! Would love to do it again but we went away the next day so couldn't take advantage of 20% off. But I had a great time! Thanks
Rene

- 19/04/19

We really enjoyed our day and took advantage of the GoKarts track being right next door. It was certainly a day well worth while with the team at Hampton Downs providing excellent service both on the track and off the track! The instructor was an excellent co-pilot and guided you all the way through the course ….which made the experience even better! Thanks Team....worth a repeat!
Bernard

- 19/04/19

Great day driving, knowledgeable drive instructors, bright bubbly support staff, all in all, a great experience, we'll be back!
Belinda

- 19/04/19

Absolutely brilliant experience. Driving instructor, very very good - sorry I cant remember his name. Would and have recommended it already. Loved the Hot car drive - I may have missed some due to closing eyes!
Simonne

- 19/04/19

Had an amazing day thanks team!! Will definitely be back for round two ??
Gerard

- 19/04/19

Excellent experience, they really do make you feel welcome right from the moment you park your car at the entrance. I was surprised at the freedom we had to roam around and check out the supercars. The pilot lap was helpful, and the drive itself was the highlight, if you're willing to listen to the instructor you'd be surprised how much you can get out of the experience. I would also recommend the Evo X Hotlap, will definitely be back!
Shelley

- 17/04/19

We found the staff very friendly and accommodating. One suggestion would be to have a warm up lap in the vehicle being driven then 3 laps. Overall the experience was very good.
Liam

- 11/04/19

Awesome day for my son. Only thing he was a bit disappointed about was the hot lap as a back seat passenger. I understand that you mention it in the marketing but it isn't the same experience between front and back seat the visuals are missing in the back. I think either you pay more and book front seat, pay more and run more laps as singles, or continue to have people angling to get in front seat and those who are not pushy having a lesser experience - and they do, in spite of the on site teams programmed response which was ' it's the same experience" CHeers
Gary

- 07/04/19

Hi, Had a ball. Great car and instructor. Will recommend to others. Gary G Ps: currently can't open the video on my Mac. Can you please advise software required for this?
Kevin

- 06/04/19

Great day guys thoroughly enjoyed the drives
Glen

- 05/04/19

Great fun. Enjoyed it alot.
Jeff

- 05/04/19

A great experience. Would have loved to drive a manual though!!
Bil

- 05/04/19

Hi, great day out. Have a problem downloading the video files you gave me as they are in a file that my Apple does not recognise (they are set up as VBOX files for Windows). Please let me know how I can view these on my Mac Bil
Tracey

- 05/04/19

I had an absolute fabulous time, thanks so much. Will be bringing our son back who is 21 but not allowed to drive yet. So this will be his birthday present.
Pieter

- 25/03/19

it was the best experience i had in years and the driver's are excellent and very friendly
Greg

- 23/03/19

Had a great time, well run day, have already recommended to all the friends.
Brian

- 23/03/19

It was an awesome experience, thank-you. The team of girls who organised the drivers were brilliant, they had everything super organised and were brilliant to deal with. The co-driver I had was awesome as well. My only 'suggestion' would be to consider 3 laps ... Being a first timer, the first lap was really a practise one, having never been on a race track let alone drive a supercar !! It was all a little mind boggling. The 2nd lap was way better than the 1st, but a 3rd would have been great. Thanks again, loved it and will certainly be recomending it to everyone. Cheers Alison.
Maxine

- 23/03/19

Had a great day really enjoyed it over to quickly. I did 5 laps a few more would have been better.
Graham

- 22/03/19

Had a great time.Everything was well run and professional. I know my daughter had a great drive as well.