Drive Supercars Reviews
Some Example Photos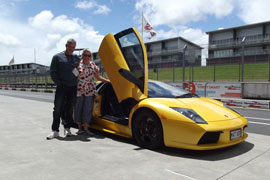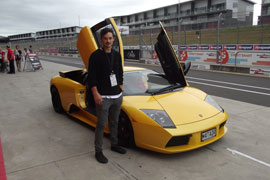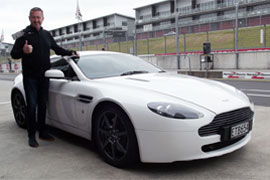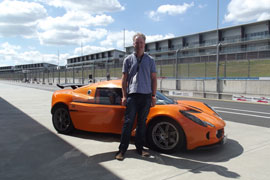 Last 20 Reviews
Thanks (finally!) for the awesome experience we purchased for our daughter's 21st, and thanks for the bonus laps. Shannon was absolutely buzzing and thoroughly enjoyed herself. We may have purchased a further package if the 20% discount lasted somewhat longer than just 3 days!
Great way to spend a day out. The Lambo was an epic drive and the hot lap with Eddie in the Evo X will leave you questioning how it's possible for a stock road car to have that much grip around corners. Definitely a must do!
Really great day on the track. Favourites were the Lamborghini and Lotus. Not so keen on the Ferrari. Instructors were awesome with a special mention for Stu and Carl. Highly recommended
Great experience. Very impressed with the friendliness and supportive approach from all of the staff.
I had an absolutely fantastic day! There was a bit of a delay while we waited for the fog to clear but that really wasn't a problem. Just the sheer exhilaration of hopping into your dream car and driving it is something that will stay with you for a lifetime. I drove the Ferrari F430 and the power and acceleration was something to behold. I could have driven around the track all day! Also had a blast in the Aston Martin and the hotlap in the Lotus Exige was out of this world. Photos and videos don't really do it justice and you actually have to drive the cars to get the most from this experience. Thank you to my darling for the best present any man could want.
My daughter and I just had the very best fun. It was a great way to spend the day in Auckland. We laughed and laughed and the adrenaline was pumping. We're going to do it again with our son now. Great birthday present.
Hi Drive Supercars team What a great afternoon. Thanks so much for your hospitality and the chance to drive some great cars under your expert guidance. Everyone on the team made us feel very welcome and nothing was any trouble. I would definitely recommend a trip to Hampton Downs with you guys to anyone who wants an awesome driving experience.
Hi team. Thanks so much for a great morning. This was a 21st present for my boy Hamish and this is something he will never forget. I also treated myself to a bucket list experience to drive a Ferrari which I thoroughly enjoyed. Thanks also to David for his patience and guidance. Shane Hutchinson.
My experience from start to finish was fantastic. Your organisation is both slick and professional throughout the whole experience. Everyone was happy, made you to feel special and all done with a smile. CONGRATULATIONS
We are a corporate company and have recently attended this event with some key clients. Its hard to describe in words but if you are thinking about this as a great way to give your clients that 'bucket list' experience I suggest stop thinking about it and BOOK NOW! What an incredible experience, we had such a great time we have secured future bookings with other key clients. Great experience, great facility, and great team. Well done Drive Supercars Team.
The entire experience was brilliant, thank you. From the briefing, to the service while waiting in the pits, all good. The instructor was brilliant and my only regret was that I didn't book some additional laps as I felt I could have benefited from further instruction and time on the track. The car was great, sounded awesome and I'd happily recommend the experience to anyone.
Great event, really enjoyed this experience. Just wish it had been longer. Regards, Neville
Really enjoyable day. Disappointed the video was no good. Camera had obviously been knocked so entire forward video was filmed at 45 degrees so not watchable.
most excellent experience, all staff were very friendly , helpful and professional, so good to share the experience with my family, daughter and grand kids really enjoyed the hot lap experience, Murray made my day, I now know what it means to be a guest on the Top gear show. thank you so much, given the covid booking cancellations I certainly was not disappointed. I would not hesitate to refer the experience to my friends and family.
A GREAT DAY!!!! Recommend it for any reward scheme , corporate bonding, and all that sort of bullshit Now Im hanging Ihanging around Giltraps trying to buy an ASTON
An absolutely incredible day and the experience of a lifetime. The whole day was professionally run and well organized, flowed like clockwork and was fun, fun, fun. All the staff were extremally friendly with the instructors being calming, very experienced and great in guiding all drivers to get the most out of their drive, learn from and maximize the experience, while staying safe in the process. Whilst all the cars were amazing, I enjoyed the Ferrari the most. Certainly recommend the extended laps option and would like to see this extended further, along with the Hot Lap extended by one lap to include a drive down the front straight. An outstanding day in every respect!!
Hi There I was so impressed with my day at Hampton Downs - I absolutely loved it. Three things that I was really impressed with were: 1. How well organised and flowing the day was. 2. How friendly all the staff were 3. The quality of the instructors - especially Colin in the Lotus
The whole experience was absolutely amazing. The staff on arrival were extremely friendly and helpful. After the safety video we were taken down to wait for our orientation lap. After which I didn't have to wait too long for my drive. I was nervous and excited at the same time about driving an Aston Martin (my life long ambition - I used to live near the factory!) My instructor was amazing though guiding me around the track. I loved every second of it and at the end of the drive I decided I wanted a Vantage!! The Evo lap was absolutely thrilling, what a rush. The driver was outstanding!! I definitely want to do it again. Would recommend you to anyone who wants to drive a supercar. Thank you for such an awesome experience.
The staff were very friendly and efficient. I really enjoyed driving the Lamborghini but Wish i had a few more laps! The co drivers were great and calmed the nerves With their instructions. Would definitely recommend to friends.
Thanks guys we had a fantastic time and both instructors and staff were great. We will be back!