Drive Supercars Reviews
Some Example Photos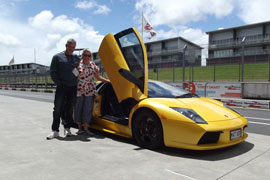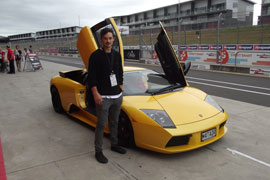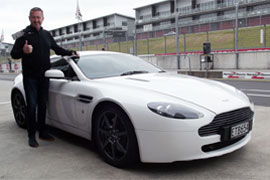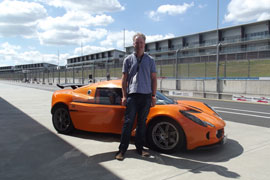 Last 20 Reviews
Jarrod

- 08/04/21

Great gift idea for those that already have all their toys. Atmosphere is laid back in pit lane and experience on track is great. Be sure to upgrade to the extra laps as they fly be real quick.
Bodean

- 04/04/21

Was great experience definitely recommend to anyone wanting to drive a supercar.
Donna

- 03/04/21

Exhilarating. The staff are very accommodating. We could buy extra laps on the day and my wife decided to come in as a passenger on the Evo lap for only $39 which was fantastic
Sue

- 03/04/21

BEST DAY EVER!!! This is the best gift my children have ever given me. PJ asked me if I was driving because I am an Aston Martin fan. My answer. No, but I have always wanted to drive fast in a safe environment. Dream fulfilled! The choice of car suited me and PJ made me feel confident from the start. The rest of the team were helpful and friendly and made you feel calm when the heart was racing. The extra laps and the USB are definitely worth the money. One thing I would like to know is how fast I was going. Is it possible to find out? Would I recommend the experience . Hell Yes Thank you and the team. Sue Nicholson
Marcus

- 02/04/21

I had shit news just before the drive, but during the drive I felt awesome, I had a blast thrashing a Ferrari. I do wish the drive was longer but it is what it is. The hot lap was awesome too, scary at first but you get used it to super quick. I think if I didn't have personal problems before the drive, I would have enjoyed it A LOT more. Definitely a lot more
Tom

- 02/04/21

awesome day. the guy in the evo is nuts, ill be back.
Roger

- 02/04/21

Great people, awesome cars, amazing experience - do it!
Brett

- 02/04/21

Thanks for the great time, a very relaxed and fun atmosphere. The staff know their stuff and enjoy their jobs, giving friendly advice and encouragement. Nothing better than seeing the grin on my mates face when he got out of the car - the perfect birthday gift. We both loved it. Thank you.
Damien

- 02/04/21

I have a fantastic time.The staff are friendly and informative.The Lamborghini drive was unreal.My instructor was so great.Made us feel at ease and the fast lap was awesome.Would definitely do again.Many thanks Damien
Lindsay

- 29/03/21

great day - staff really pleasant and approachable. Ferrari drive fantastic and instructor's knowledge and personality made for a relaxing but exciting experience.
Jack

- 28/03/21

I had the best day of my life. Fantastic team and friendly. Driving the Aston Martin was an absolute high point in my driving experiences. The only downside is it didn't last longer, but I guess I'll have to come back sometime.
Nigel

- 27/03/21

Well organised. Never too long to wait between drives. Instructors were great - right amount of input and support. Absolutely will do again. The only slightly superfluous part was the hot lap. It would have been more helpful to me to have had this before rather after drives as would given more useful information on good braking and lines through corners.
Jacob

- 26/03/21

great day as it was last time I came. See you again in the future
Micheal

- 26/03/21

Great fun really friendly instructor - Colin. Thought I was going pretty fast but then came the hotlap.... Drive home in the Corolla seemed pretty tame!
Graham

- 25/03/21

The Aston was absolutely a fantastic drive, a dream come true. It's not solely about the car driving it's about the management, the greeting, the girls in the pits, the instructors... they all did a great job. The selection of cars available and the drive options was very good. It's clear that safety and keeping safe is a high priority and there is a lot of time and energy put into these areas. It was a great day and a great experience. We'll be back! Improvement tips: Let the pit girls drive each of the cars, then they can relate more to customers. The Lotus was a little tricky to get into so a note on that might be a good idea for more "experienced" people in life. Add a skid pad for those people wanting to experience a "hot lap" burnout session. In the future teaming up with stunt car driving could round out the experience.
Karyn

- 25/03/21

Absolutely fantastic morning at the track, very professionally organisation and had a blast. Highly recommended..
Malcolm

- 25/03/21

Fantastic experience, instructor was great and al the staff were friendly. Drove the Lotus Exige and it was great, only the driver was the limiting factor! Highly recommended experience.
Nathan

- 25/03/21

What an experience! It was incredible to be behind the wheel of these two super cars. The sound of the Aston Martin made your eyes water, the Lotus felt like a go cart as it roared down the straights and stuck to the road on the turns. The driving instructors were fantastic at guiding you though the track in a way that made you feel safe yet still gave you that feeling of driving a super car at speeds above the limits you would do on the road. I would love to go again with friends
Linda

- 25/03/21

Thanks for a great afternoon. Shared the drives with son in law - I drove the Ferrari - he drove the Lotus and did the evo hot lap as I was advised medically not to . Any chance you could run a 5-6lap package for a client's choice of one speficic/ selected supercar and not have the evo hot lap included please ? as it would be good to do a few more laps than the 3 and focus on just one car if that were possible ? Look forward to your pricing of such a package less the 20% offer on the table for 3 days:-) Thank you Linda Kestle