Drive Supercars Reviews
Some Example Photos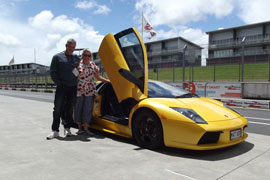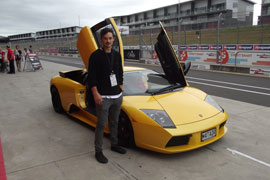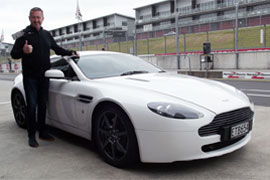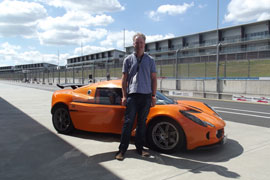 Last 20 Reviews
Bob

- 15/11/19

Thank you very much to your team for a very enjoyable day. Knowledgeable and friendly staff made my driving experience of the Lotus Exige most memorable. I am already trying to decide which car to drive next and whether it be my childhood hero, the Lamborghini, or James Bond's Aston Martin I'm sure my mind will change many times. I will definitely be recommending the experience to friends and family, once again thank you very much.
Danny

- 15/11/19

Absolutely awesome experience! Loved every minute of it.
Gene

- 15/11/19

Great experience. Friendly staff. Would recommend it to my mates.
Kim

- 14/11/19

Very friendly and efficient staff Nice clear instructions and very clean premises
Warren

- 14/11/19

This was a really fun day. The staff on site are very friendly and helpful and go out of their way to make you feel welcome and comfortable. Cheers
Stu

- 14/11/19

A great afternoon. Well organised with a large number of participants that flowed smoothly.
Toby

- 14/11/19

Had an awesome morning. I was really impressed by how well organised everything was, and everyone involved was friendly and helpful. I'll definitely be back, especially if there's a chance to drive a Porsche at some stage in the future!
Noel

- 14/11/19

What an awesome time! Highly recommend this to any car enthusiast or thrill seeker. Great track and awesome instructors. Keen to come back and drive all the cars!
Paul

- 14/11/19

A really good day, Well organised and a great drive in the Aston Martin, with a good instructor.
Steve

- 05/11/19

It was a thoroughly enjoyable experience and I have already recommended to several friends. The only thing I would suggest is to have your speed lap in the Evo prior to driving the Supercar as it gives an indication of just what can be achieved on the track. We will definately be coming back and even the wife is interested after her drive in the Evo.
Geoff

- 02/11/19

It was a great day and well organised. Thank you. At no stage was I left without not knowing what was going on and what was expected If there was a negative but very small comment, I thought it was slightly over priced Thanks again
Marko

- 02/11/19

Hi team, I wasn't feeling at all well on the day and the team were super accommodative about the option of my husband jumping in at the last minute if need be. I ended up being able to drive the Ferrari and Aston but my husband got the awesome chance to hoon around with a proper driver in the Evo. The Ferrari and the Aston were lovely vehicles to have had a few laps in and Carl did a great job in trying to inspire me to go faster - with not being well and struggling to see very well for some reason = no chance haha. Biggest ups to the day was my time with JT in the Aston. What a passion for racing and a passion to motivate and inspire the driver. He used metaphors and language that really showcased the examples he was trying to teach. I honestly felt my driving got better (and faster) the more time I spent with him. I remember initially thinking that (as I drove the Ferrari first) that I was starting with the cherry and finishing with the cake - but not the case! Having the privilege to sit with JT was the highlight by a long shot. I feel there needs to be a round 2 when I can see and feel better to really give the cars the pace and skill that they're used to. Great day, great cars, great team - a job more than 'well done'! Fyi - The Aston's brakes need some love (not sure the high pitched squeal is a good sign)!
Adrian

- 01/11/19

I thoroughly enjoyed my supercar experience. From my initial interaction with staff at the sign in desk to leaving at the end of the booking, I found the experience that Drive Supercars offers to be excellent. I honestly dont have a negative thing to say, except it ended too soon. The driving instructor, was a genuinely top bloke and his feedback was highly appreciated. I was talking to your staff and you can they are happy and enjoy what they do which is great as it reflects positively for your business. And unlike the previous time I went to Hampton Downs, the weather was perfect. I would highly recommend your company to anyone who has even the slightest interest in driving a sports car on the track. We will most likely book the Lambo and the Lotus again next year.
henry

- 01/11/19

Six laps later and this 75 year old is still buzzing Many thanks.
Doug

- 01/11/19

What a fantastic experience very well run operation and the most exciting fun was had.
Fiona

- 01/11/19

It was a very exciting experience driving the Lamborghini and Lotus, and I would highly recommend it to anyone with petrol flowing through their veins. The staff were extremely pleasant and helpful, which made the morning all the better. One area for improvement would be for the briefing video to be at a louder level, as it was almost impossible to hear with a couple of people talking at the side of the room.
Alister

- 01/11/19

The drive was amazing. Very cool little car and a lot of fun. The instructor was brilliant and made the drive more enjoyable with the help he gave while on the track.
Peter

- 01/11/19

An absolute blast! Great instruction on both cars and such a contrast between the two - well worth driving both. I took extra laps on the Lotus as I simply didn't want to stop. Well organised - just go and do it!
Cameron

- 01/11/19

Great drive, run by an experienced team, would recommend this to all my friends. Cam
Michael

- 01/11/19

Great day. Very well organized and run. Would certainly recommend to family and friends.